Automatic Detection of Emergencies
The STUVA coordinates Research Project "inREAKT" for enhancing Security in Local Public Transport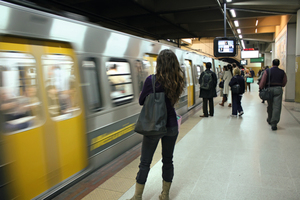 InREAKT involves the setting up of a self-learning technical system designed to increase LPT security, which identifies critical situations by completely automatic means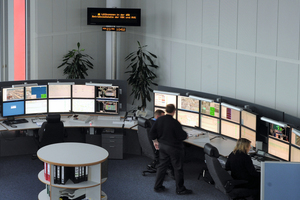 An emergency is first identified and then transferred to an incident management system in the transportation company control centre
Public commuter transportation represents the central element of the urban infrastructure. Incidents involving violence, damage to property and vandalism in buses and trains as well as at stops can lead to a situation where passengers feel uncomfortable or even avoid public transportation entirely – especially at night or when services are infrequent. However, drivers, ticket inspectors or even security staff employed by public transport companies can also become involved in critical situations.
Automatic Detection of Emergencies increases Speed of Reaction
InREAKT involves the establishment of an innovative self-learning and self-optimizing technical system for increasing security in local public transport (LPT), which automatically identifies critical situations and emergencies in LPT and initiates corresponding measures thus facilitating rapid response to emergencies. A response chain of reaction in such cases consists of:
Identifying a person requiring assistance
Reporting a detected situation
Informing the response services
Intervention at the point of occurrence
The system is devised to function without storing data or identifying persons. Thanks to this method of working, which is clearly unproblematic in terms of data protection, there is a good chance that it will be readily accepted by the general public. In addition, all technical activities are augmented by accompanying comprehensive psychological research. InREAKT is intended to enhance the objective safety of the passenger and the transport company employees as well as reaching out for increased susceptibility for security.
How it works
The inREAKT project pursues the aim of automatically identifying critical situations and emergencies affecting security in LPT based on combined video and sound detection. Additional data sources such as dynamic passenger information and vehicle telematics are taken into consideration to avoid false alarms.
The identification of a critical situation or an emergency is transferred to an incident management system in the transport company control centre, which contains recommendations for how the staff should react. This knowledge data bank is based on self-learning structures so that the aids for making decisions to be found there are constantly improved. Far-reaching considerations are undertaken regarding how to improve means of communication for speedier intervention on the part of the emergency services (police, EMS and private security firms). Towards this end, among other things an app for staff members is integrated in the incident management system by means of which the relevant data can be exchanged effectively.
Thanks to technical systems such as loudspeaker systems and light control there is the possibility of influencing critical situations affecting security by remote-controlled means. As a consequence, corresponding de-escalation and appeasement strategies are being devised and selective options for various groups of staff of public transportation companies distributed (drivers and ticket inspectors, control centre personnel).
Project Workshops
At the current stage reached by inREAKT the focus is centered on taking the requirements and proposals put forward by transportation companies into consideration. For example at the end of January the STUVA staged a workshop with the support of the VDV-Akademie of the German Association of Transport Companies so that these companies were informed about the contents and objectives in detail and included in the further development stages right at the start of the project. One objective in this connection is to exploit the existing safety concepts as well as the vehicle and control centre components of the companies that already exist as far as possible in order to cut down on procurement costs. Alongside technical aspects the topics of data protection and the subjective security susceptibility of passengers in LPT were discussed at length.
A further workshop concentrating on video detection and data protection will take place in Düsseldorf in autumn 2014. The number of participants will be limited to 30 and it is possible to register without obligation now by accessing info@inreakt.de:info@inreakt.de%3C/a%3E" >.
"InREAKT – Integrated Response Reaction Chains to enhance Security in Local Public Transport" is being sponsored to the tune of 2.75 million Euro by the Federal Ministry for Education and Research within the framework of the "Research for civil Security" project as part of the federal government's high-tech strategy over a three-year period (October 2013 to September 2016). More details available from www.inreakt.de.