Virtual ITA Tunnelling Awards 2020 – die Finalisten
Online-Konferenz und -Preisverleihung, 3.–4. Dezember
Der internationale Wettbewerb "ITA Tunnelling Awards", der 2015 von der International Tunnelling and Underground Association (ITA) ins Leben gerufen wurde, kehrt 2020 für eine vielversprechende 6. Auflage zurück.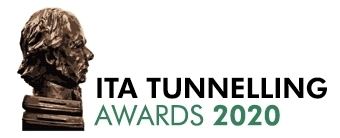 In den vergangenen fünf Jahren wurde die Veranstaltung von verschiedenen ITA-Mitgliedsnationen ausgerichtet. Bei den vorherigen Veranstaltungen in der Schweiz, Singapur, Frankreich, China und den USA kamen insgesamt mehr als 1200 Teilnehmer und 403 Beiträge zusammen. Im Jahr 2020 wird die Preisverleihung aufgrund von Covid19-Restriktionen zum ersten Mal als webbasierte virtuelle Veranstaltung organisiert. Sie wird vom 3. bis 4. Dezember online auf awards.ita-aites.org stattfinden, und die Präsentationen und die virtuelle Ausstellung werden mehrere Wochen lang verfügbar bleiben.
Für dieses Jahr ist eine Reihe von Neuheiten hervorzuheben: Trotz dieser bislang noch nicht dagewesenen Rahmenbedingungen entwickeln sich die ITA Tunnelling Awards weiter dahin, globale Trends der Untertageindustrie voll zur Geltung zu bringen. Es wurden neue Kategorien eingeführt, nämlich "Overcoming the Challenges" und "Oddities of the Underground", während die Spezifikation der Kategorie "Innovative and Contributing Underground Spaces" modifiziert wurde.
Die Finalisten in den acht Kategorien
Major Project of the Year (mehr als 500 Millionen Euro)
• John Holland CPB Ghella Joint Venture Tunnelling and Station Excavation Works for the Sydney Metro City & Southwest Project; Australien
• Ryfast – Construction of the world's longest sub-sea road tunnel; Norwegen
• Jinjiazhuang Spiral tunnel project of Yanqing to Chongli expressway; China
Project of the Year (50 Millionen–500 Millionen Euro)
• Chinatown Station of the Central Subway Program; USA
• Uma Oya Multipurpose Development Project; Sri Lanka
• Large scale underpass using multiple construction methods at Banxuegang hightech-city; Shenzhen, China
• Micangshan Tunnel on G85 Expressway; China
Project of the Year incl. Renovation (bis zu 50 Millionen Euro)
• Lower Otta Hydropower Project; Norwegen
• FEDRO's (ASTRA) Tunnel Renovation Method – renovation of a non-reinforced primary lining using night shifts while keeping all traffic lanes open during the day; Schweiz
• Züblin – Nord Stream 2 Trenchless Shore Crossing (Micro Tunnel); Deutschland
• The Integration of Subway Station Construction and Ecological Environment Protection in Complex Environment; China
Technical Innovation of the Year
• An Innovative Automated Geological Forward-prospecting Technique Mounted on Hard-rock TBM; China
• Innovative digital condition assessment of Brunel brick tunnels; Vereinigtes Königreich
• An Innovative GB-InSAR System for Real-time Tunnel Face Safety Monitoring; Italien
• Laser-guided system for conventional tunnelling; Spanien
Overcoming the Challenge
• Chengdu–Guiyang High-speed Railway, Yujingshan Mountain Tunnel Crossing, giant karst cave and underground river; China
• 89.3 °C Ultra-high Ground Temperature Treatment for Sangzhuling Tunnel in Nyingchi–Lhasa Section of Sichuan–Tibet Railway; China
• High performance EPB excavation in mixed face and variable ground with up to 7 bar groundwater pressure; Mexiko
Oddities of the Underground
• The Spiral Tunnel (Drammen); Norwegen
• Tunnelling in the service of archaeology; Israel
Innovative and Contributing Underground Spaces
• Union Square/Market Street Station – Battered Drilled Shafts as Permanent Ground Support; USA
• Indian Strategic Petroleum Reserves Padur; Indien
• Shenzhen Chegongmiao Integrated Traffic Hub Project; China
Young Tunneller of the Year
• Josh Barry; Australien
• Laurence Delplace; Belgien
• Dimitrios Litsas; Griechenland
• Sandeep Singh Nirmal; Indien
• Qingfang Liu; China
Melden Sie sich kostenlos für die Online-Konferenz und -Ausstellung am 3. und 4. Dezember 2020 an:
awards.ita-aites.org