Germany
DEGES Awards Major Contract for A7 Altona Tunnel in Hamburg to Hochtief and Implenia

At the beginning of 2021, DEGES (Deutsche Einheit Fernstraßenplanungs und -bau GmbH) awarded a contract to a joint venture of the companies Hochtief Infrastructure GmbH and Implenia Construction GmbH for the construction of the 2.2 km long Altona noise protection tunnel on the A7 motorway in Hamburg.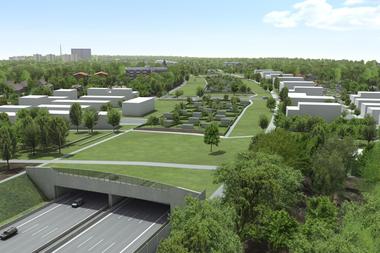 Credit/Quelle: DEGES/VKON.media
A7 Altona Tunnel in Hamburg: noise protection tunnel covered with allotments, greenery and parks

Credit/Quelle: DEGES/VKON.media
The contract has a total net volume of around 580 million euros. Hochtief's share of the total contract volume is 65 %, Implenia's share 35 %. While Hochtief will take the technical lead, Implenia will lead the project commercially.
Start of Construction Scheduled for April 2021
The expansion to eight lanes from the Hamburg-Othmarschen junction to Hamburg-Volkspark will close the gap to the expansion projects already underway north and south of the Elbe Tunnel on the A7. A large number of allotments as well as green spaces and parks will be created on the 2230 m long Altona noise protection tunnel, which will be built as an enclosure over the motorway and will also reconnect the two adjacent districts of Othmarschen and Bahrenfeld. The eight-year project is scheduled to start in April 2021.
The project is an important part of the renewal and improvement of the transport infrastructure on a major arterial road in Germany. It also creates a new local recreation area and provides comprehensive noise protection.
Christian Späth, Head Division Civil Engineering at Implenia: "We were able to identify numerous optimisation opportunities during the tendering process, which began in November 2019. This allowed us, among other things, to bring forward parts of the detailed design work and systematically incorporate the results of more than 30 coordination meetings into the project calculations. This meant we could significantly reduce the project risks for everyone involved."
The Three Hamburg Roofs: Altona, Stellingen and Schnelsen
The Altona Tunnel will be the longest of the three so-called "Hamburg Roofs" on the A7 motorway, which will contribute significantly to reducing noise pollution for residents in the Hamburg urban area. The 960 m long Stellingen Tunnel was completed in February 2021, the 550 m long Schnelsen Tunnel in December 2019, and the Altona Tunnel is scheduled for completion at the end of 2028.