Italy
Europe's largest TBM is excavating the Santa Lucia Tunnel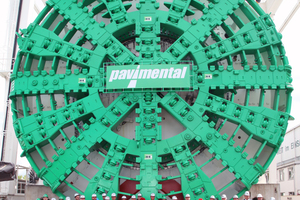 Quelle/credit: Herrenknecht
The diameter of the tunnel boring machine for the Santa Lucia Tunnel is an impressive 15.87 meters. Not only does this make the TBM the largest ever assembled at Herrenknecht's plant in Schwanau. A machine with a greater diameter has never been used before in Europe either
Quelle/credit: Herrenknecht
Assembled in Schwanau, with a diameter of 15.87 m the tunnel boring machine for the Santa Lucia road tunnel is an impressive sight. In the next three years the 4800 tonne drilling giant will build a 7528 meter tunnel in the Apennines near Florence. It takes over from the existing record holder for size, which was also used in Italy – an EPB shield for the Galleria Sparvo with a diameter of 15.62 m.
On completion of the record breaker a comprehensive technical acceptance took place at the end of August 2016. The TBM customer, construction company Pavimental S.p.A., representatives of client Autostrade per l'italia S.p.A. as well engineers and the Board of Herrenknecht AG inspected the machine thoroughly. The highlight was the turning of the massive cutting wheel of 410 tonnes, which will burrow through the heterogeneous subsoil.
After being disassembled again the TBM was ready for delivery to its destination in Italy in Novmeber – initially by river and sea transport to Ravenna and from there by road transport over a distance of 165 km to Barberino di Mugello. By early March 2017 the assembly on site had already been well-advanced.
Together with the now completed TBM, in the near future 13 Herrenknecht tunnel borers will be operating in Italy – in particular the larger formats. Eight of them have a diameter of more than 8 m. Major projects such as the construction of the Autostrada A1 create modern, new infrastructures. In mountain ranges such as the Apennines, tunnels are part and parcel of the realization of safer and more efficient traffic arteries. On the A1 new-build route alone a total of 44 new road tunnels are planned – including the Santa Lucia Tunnel. In future the journey time from Bologna to Florence will be reduced by 30 % thanks to the new build. The route will be opened to traffic in 2019.