Fire Protection
Fermacell Aestuver: Specialist for Fire Protection in modern Tunnelling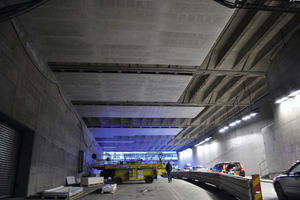 Foto: Täby BrandskyddsTeknik
When modernizing the Söderleds Tunnel in Stockholm in terms of fire protection Aestuver fire protection boards were used as an alternative to the fire protection plaster originally planned
Foto: Täby BrandskyddsTeknik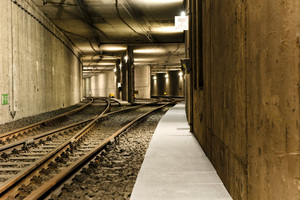 Foto: fermacell AESTUVER
Extensive redevelopment measures in the City of Essen's Metro network also called for the cable trough lids being renewed. In the process, more than 2,500 fire protection elements D+2 were used
Foto: fermacell AESTUVER
Fermacell Aestuver will present concepts for preventive fire protection in underground transportation facilities at the STUVA Expo from November 27 to 28 in Stuttgart (Hall 2, Stand A112). Aestuver fire protection boards are non-combustible, cement-bonded glass fibre light concrete boards belonging to construction material class A1 according to DIN 4102 for highly specialized applications. The boards are water and frost resistant, extremely resistant to pressure, bending and abrasion as well as being easy to process. These fire protection boards have been granted the European Technical Approval (ETA-11/0458) certificate from the DIBT (German Institute for Construction Technology).
Serious accidents involving many fatalities and high economic damage have triggered basic discussions on tunnel safety in recent years. Enhanced demands on safety standards, which have been developed against this background, are mainly geared to a scenario of an accident involving fire. As a result, attention is focused on first and foremost protecting the structural concrete against the consequences of a rapid rise in temperature and major heat development, the safe design of evacuation routes as well as ensuring that electrical installations remain functional. Within the scope of the Expo, the manufacturer is presenting efficient boards and accessories, which are devised especially for this field of application thanks to a combination of special features.
Protecting structural Concrete
Fire protection boards made of glass fibre light concrete protect concrete reliably in the event of fire against spalling and destruction (Fig. 1). These tunnel fire protection boards specially designed to counter fire in underground transportation facilities – Type Aestuver – are particularly suitable for applications, where demands are posed in the high temperature sector e.g. according to ZTV-ING. Even given a fire load according to the internationally recognized RWS curve, they were shown to be suitable for temperatures of up to 1,350 °C.
Safely designing
Escapeways
The fire protection element D+2 is a special development for covering cable concrete troughs and to design evacuation and rescue routes in the track bed. The elements tested according to DIN EN 13501-1 (DIN 4102, Part 1) are non-combustible (construction material class A1 according to DIN 4102) and resist temperatures in excess of 1,000 °C (Fig. 2). Depending on their field of application the elements can be supplied with a non-slip or luminescent coating.
Keeping electrical
Installations functional
The manufacturer's fire protection cable ducts cater for safe enclosure of the fire load thus ensuring that evacuation and rescue routes do not become fatal traps and at the same time guarantee that electrical installations remain functioning (Fig. 3). They are supplied as ready-to-assemble components in fire resistance classes I 30 to I 120 and E 30 to E 120.