Germany
Munich Tunnelling Symposium on July 8, 2022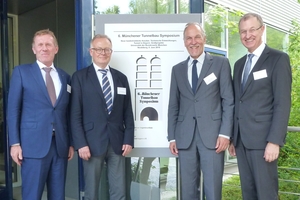 Credit/Quelle: Universität der Bundeswehr München
The organizers of the Munich Tunnelling Symposium at the last event in 2018. (from left to right): Prof. Dr.-Ing. Conrad Boley and Prof. Dr.-Ing. Manfred Keuser, both University of the Federal Armed Forces, Prof. Dr.-Ing. Jürgen Schwarz, Prof. Jürgen Schwarz Consulting GmbH; Prof. Dr.-Ing. Roland Leucker, STUVA e. V.
Credit/Quelle: Universität der Bundeswehr München
On July 8, 2022, the next Munich Tunnelling Symposium will take place at the University of the Federal Armed Forces Munich in Neubiberg. The organizers are the university's sponsoring association "Förderverein Konstruktiver Ingenieurbau" and STUVA. The lectures will be held in German.
Planning, construction and maintenance of tunnel structures place high demands on all parties involved. The complexity of the tasks constantly requires the multidisciplinary cooperation of various experts: starting with the geotechnical and rock-mechanical investigation, through the static-constructive planning, the selection of building materials and construction methods, to the consideration of the operational equipment. In addition, the aspects of civil and public law are becoming increasingly important.
The Munich Tunnelling Symposium offers all those involved in tunnel construction – such as clients, construction companies, planners, scientific experts and consultants – a platform to present and discuss current topics.
The "Förderverein Konstruktiver Ingenieurbau" and the STUVA have put together an interesting programme with the support of the German Federal Ministry for Digital and Transport (BMDV), the Bavarian Chamber of Civil Engineers, the Bavarian State Ministry of Housing, Construction and Transport, and the construction industry, and cordially invite you to participate in the 7th symposium on July 8, 2022.
The main topics are:
Tunnels in Bavaria
Contract models and risk, major projects
Digitalization, BIM and research
International large-scale projects