Switzerland
Planning Tendering Procedurefor Double-Track Development of the Lötschberg Base Tunnel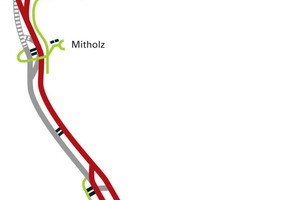 Quelle/credit: BLS
Route alignment of the Lötschberg Base Tunnel with future development section (grey) in the Ferden-Mitholz section and optional complete development alternative
Quelle/credit: BLS
The BLS AG invited tenders for planning the further development of the Lötschberg Base Tunnel on August 17, 2015. The planning work is due to start in 2016. It will embrace the double-track development from Ferden–Mitholz and the complete development of Ferden–Frutigen as an option.
Necessary Extension of Capacity
In its first phase the Lötschberg Base Tunnel was built in abbreviated form for financial political reasons and began operating in 2007. Of the 34.6 tunnel km, 21 km in the Frutigen-Ferden section are only single-track. Over 15 km between Mitholz and Ferden there is a second tunnel bore completed in its rough state without rail technology. According to the BLS the long single-track rail section causes high operating costs while at the same time restricting the scope for timetabling services quite apart from preventing the extension of the capacity for passenger and goods trains, which has already reached its limits.
Financing for Planning assured
Within the framework of the FABI (= financing and development of the rail infrastructure) submission, development section 2025, the Federal Assembly has already made funds available for planning the rail engineering equipment for the Ferden-Mitholz section. The corresponding activities are being prepared by the BLS and are due to start in 2016.
Half-hourly Cycle to Valais
The half-hourly cycle in mainline traffic from Mittelland to Valais will first become possible when a minimum of 15 roughwork kilometres have been provided with rail technology. A complete development possesses additional benefits: for instance, it creates more scope for timetabling services and facilitates substantial time savings as a result of redimensioning the mountain route, which would largely be relieved of freight traffic.