Mercedes-Benz
Predestined for Tunnelling: the Arocs – from Dumper to heavy-duty Tractor Truck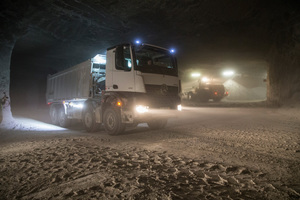 Quelle/credit: Mercedes-Benz
The Mercedes-Benz Arocs has been specially developed as a construction vehicle and can be found on numerous tunnel sites – like at the moment on the new Stuttgart–Ulm high-speed line. In these restricted sites, the advantages of the compact cab are evident
Quelle/credit: Mercedes-Benz
The Mercedes-Benz Arocs has been specially developed as a construction machine and can be found on many tunnel sites – like at the moment on the new Stuttgart–Ulm high-speed line. On these restricted sites, the advantages of the compact cab come into their own. For example the ClassicSpace LowRoof cab in M and L versions with 2300 mm width and 100 mm lowered cab height compared to the original version. In the combination of engine OM 470, engine tunnel 320 mm and ClassicSpace LowRoof, the roof height is even lower by 280 mm.
Highly specialised, versatile Construction Vehicle
Presented five years ago for the first time, the Arocs can be delivered in a wide-ranging and continuously growing programme. There are Arocs in many conceivable wheel formats as 4x2 and 4x4, three-axle 6x2 with leading or trailing axle and as 6x4 and 6x6. Four-axle trucks are available as 8x2 with trailing axle, as 8x4, as 8x4 with trailing axle, as 8x6 and 8x8. It is available with steel or air suspension, frames for predominantly road or off-road use, numerous wheelbases, cabs and engines, three all-wheel drive systems, flat-bed, dumper, concrete mixer chassis and special vehicles.
For the two-axle tractor units Arocs 4x2 and the Arocs 4x4, a new tipping hydraulic system has been available from the works since April 2018. The hydraulic system is now designed as a single- or twin-circuit system depending on the application.
Four Engines with 18 Power Steps
Inline six-cylinders with 7.7 litre, 10.7 litre, 12.8 litre and 15.6 litre capacity cover any motorisation requirements. Altogether 18 power steps are available, tightly graded from 175 kW (238 PS) to 460 kW (625 PS) and from 1000 Nm to 3000 Nm.
HAD (Hydraulic Auxiliary Drive) and TRK (Turbo-Retarder Clutch)
The switchable hydraulic starting aid HAD (Hydraulic Auxiliary Drive) can now also be used in tractor truck variants with 3300 mm wheelbase and for hazardous goods transports. New for the Arocs with HAD are the engine tunnel height 320 mm for L cabins and a bulk material cover with the M cab.
Whoever has to finely drive off or manoeuvre at very low speed will select the turbo-retarder clutch (TRK). This can be combined with air suspension and front drive-under protection with distance assistant and the emergency braking system Active Brake Assist with all Arocs 6x4 chassis. Together with the engine OM 471, an additional motor-side auxiliary drive up to 80 kW and 350 Nm is possible in combination with the TRK.
Turning Assistant
Accident statistics speak a clear language: turning collisions are among the most frequent and serious accidents involving trucks and unprotected road users. The new turning assistant from Mercedes-Benz reliably warns the driver of dangers turning in critical situations with restricted view.
If a moving object is in the monitored zone at the side, the driver is optically informed. In the A column on the driver's side at the sight level of the driver, a yellow triangular LED lights up. The lights intuitively draw the attention of the driver to the situation beside his vehicle. If there is a danger of a collision, there is an additional optical and acoustic warning: the LED blinks red with high intensity and a warning buzzer sounds at the side.