Mercedes-Benz
Unimog washes the Tunnels of Paris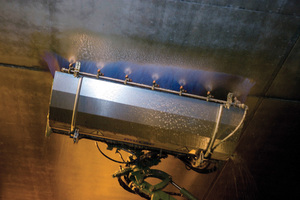 The boom of the FME 600-T tunnel washing unit by Mulag is designed to clean walls, ceilings and continuous lighting strips in tunnels and subways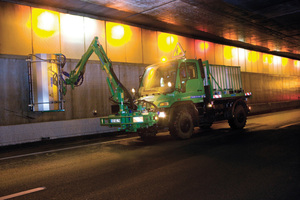 Quelle/credit (3): Mercedes-Benz
The road maintenance department of the municipal cleaning services in Paris use nine Unimog U 400 To clean the well over 30 tunnels of the Boulevard Périphérique with 720 000 m2 of tunnel surfaces
Quelle/credit (3): Mercedes-Benz
The road maintenance department of the municipal cleaning services in the French capital – Propreté de Paris – have been working for several years working with the Mercedes-Benz Unimog. To this end the municipal authority in Paris purchased a total of nine Unimog U 400 with tunnel washing units by the leading manufacturer of mowing and tunnel cleaning equipment, Mulag, based in Oppenau, Germany. In addition the vehicles come with demountable bodies for grit spreaders, snowploughs and snow clearance units.
The Unimog U 400 were produced at Daimler AG's Mercedes-Benz truck plant in Wörth am Rhein. They are equipped with dual-circuit hydraulics and ptos for the implements, and are powered by a 177 hp four-cylinder BlueTec engine. The boom of the FME 600-T tunnel washing unit by Mulag has a range of 5.5 m to the right or left. It is designed to clean walls, ceilings and continuous lighting strips in tunnels and subways. Its automatic, electronic scanning system with ultra­sonic sensors precisely adapts the washing brush to the structure of the surface to be cleaned. The boom head can be fitted with either a brush or a spray bar. In order to avoid time-consuming refitting, Propreté de Paris operates three vehicles with brushes and six with spray bars, together with the appropriate tank bodies.
The up to eight-lane wide Boulevard Périphérique, which was built between 1954 and 1973 to encircle Paris, channels the enormous volume of traffic around the French capital and into its centre. To clean the 30 tunnels with 720 000 m2 of tunnel surfaces in each direction, the traffic must be diverted and the relevant section of the Boulevard Périphérique closed down completely. For this reason the 100 or so workmen responsible for this task only work at night. "Tunnel-washing days" are exclusively between April 15 and November 15.
During the period from November 15 to April 15, the Unimog are mainly equipped with winter service implements.