USA
World Tunnel Congress 2016 in San Francisco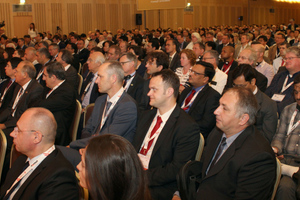 Quelle/credit: Marvin Klostermeier
More exhibits, more technical sessions and more attendees – the UCA of SME promises a "big" World Tunnel Congress 2016 in San Francisco |
Quelle/credit: Marvin Klostermeier
The World Tunnel Congress is the world's premier tunneling event and in 2016 it is being held in one of the United States' premier cities. This year's WTC will be held 22–28 April in San Francisco, California. It is organized by the Underground Construction Association of SME (UCA of SME) In 2016 there will be more exhibits, more technical sessions and more attendees, all coming together in a central location at the 28 000 m² Moscone Center and the adjacent Marriott Marquis Hotel. The hosts expect about 2500 visitors to attend the congress and the exhibition.
Together with the ITA ExCo, the WTC OC is preparing the details of the Opening ceremony. including the Muir Wood Lecture from Prof. Peter K. Kaiser, Bharti School of Engineering, Laurentian University, Sudbury, Ontario, Canada. On Tuesday morning, 26 April, the Open Session will be dedicated to Industry Advances, on Wednesday morning, 27 April, a session prepared by ITAtech Committee will deal with "how connected objects and big data are changing the tunnelling industry" and on Monday afternoon, 25 April, a session will be dedicated to BIM in tunnelling. During the three days of the conference, 180 papers will be presented during 5 parallel technical sessions, available in English and in Spanish translation.
The ITA General Assembly will be held on Sunday, 24 April, and on Wednesday, 27 April. It will be available in English and in French translation.