Austria
ZaB – Zentrum am Berg: Research at 1:1 Scale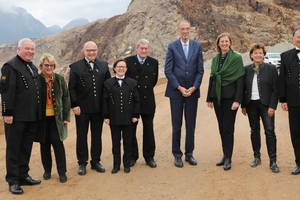 Credit/Quelle: Armin Russold
From the left: Provincial Governor Hermann Schützenhöfer; former Montanuni-University Council Chairwoman LH Waltraud Klasnic; Department Head of the "ZaB" Prof. Dr. Robert Galler; Montanuni Vice Rector Martha Mühlburger; former Vice Chancellor Dr. Hannes Androsch; Federal Minister for Education, Science and Research Heinz Faßmann; State Councillor Barbara Eibinger-Miedl; State Councillor Ursula Lackner; Montanuni Rector Wilfried Eichlseder
Credit/Quelle: Armin Russold
In the presence of numerous guests of honour, the underground research centre ZaB – Zentrum am Berg was officially opened and taken into operation on 18 October 2021 at the Styrian Erzberg. With the completion of the ZaB – Zentrum am Berg, Austria is signalling a forward strategy with unquestionably positive effects for both the scientific and the economic sectors. The Research@ZaB opens up a wide range of possible uses and thus creates space to combine research and development from a wide variety of disciplines. These include in summary: Research and development, education and training as well as seminars and events under real underground conditions.
With a total of five drifts and tunnel tubes, the new infrastructure has created a hub for international researchers and companies for the construction and operation of tunnels and other underground facilities.
The ZaB has, with other facilities, two parallel motorway tunnels and two railway tunnels, as well as a fifth tube that serves entirely as a test section: the motorway and railway tunnels meet after about 400 m with the disused "Presserstollen" drift, which has been developed over a length of about one kilometre.
The Zentrum am Berg is a unique facility in Europe for research and...