Two Generations of Tunnelling
Interview with Dr.-Ing. E.h. Martin and Martin-Devid Herrenknecht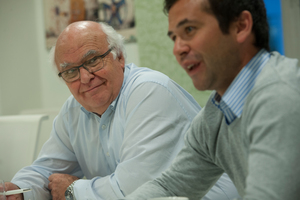 Quelle/credit: Herrenknecht
Dr.-Ing. E.h. Martin Herrenknecht und Martin-Devid Herrenknecht talk about new projects, worldwide tunneling potential, Chinese competitors and digitalization in construction
Quelle/credit: Herrenknecht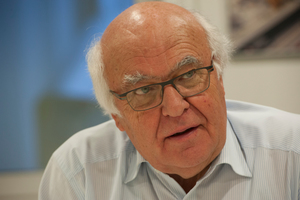 Quelle/credit: Herrenknecht
Martin Herrenknecht: "The future of our big cities is definitely underground, no matter if it's sewage, water, gas, traffic or deposits. In my opinion, underground construction is still the best, most environmentally friendly and promising solution."
Quelle/credit: Herrenknecht
Herrenknecht AG is a globally successful family business with 5000 employees and the market leader, not only for tunnel boring machines. Since the founding of Herrenknecht GmbH in 1977 by – as described aptly in the company chronicle – "namesake, driving force and CEO" Dr.-Ing. E. h. Martin Herrenknecht, the company has developed dynamically and convinced again and again with technically sophisticated solutions to problems in underground construction. Meanwhile, Martin-Devid Herrenknecht, engineer and one of three children, has joined the company. Rarely does one have the opportunity to meet both father and son for a very personal interview with fascinating statements on the market, technologies and the future of tunnel construction.
Dr.-Ing. E.h. Herrenknecht, a year ago – in June 2017 – you celebrated your 75th birthday and you look back on an extremely impressive lifetime achievement. Have you become somewhat calmer in the meantime or do you have even bigger goals in mind?
Martin Herrenknecht: I'll leave to you to decide,whether I've become calmer or not. . I think that's a standard that can only be applied from the outside. It's true that I feel responsible. As long as I am running the company, I'm directly at hand for the solution, when there are problems or important decisions to be made. Of course, my role as CEO is that I take responsibility and make sure that the company is run in the best possible way. So, I suppose you could say: I haven't really gotten any calmer.
For many of your partners, customers, employees worldwide, you are an authority and they are glad that you are approachable in case of problems, is that right?
Martin Herrenknecht: That's probably right. The company is on a good footing, so it's no longer really necessary that I always have to solve the problems. We have a new Board of Management with Michael Sprang as Vice-Chairman. He has succeeded Kurt Stiefel as CFO and is now responsible for the finances. Also on the Board are Günter Richter, responsible for Traffic Tunnelling and the Group Brands, and Ulrich Schaffhauser, with central responsibility for Utility Tunnelling, Mining and Exploration.
I am fit and feel good. I'm not a person who cooks at home or is good for cleaning. I would much rather be useful in the company.
Do you have even bigger projects, ideas or goals in mind?
Martin Herrenknecht: We have to see how we can keep our competition in check. Especially the Chinese competitors. As you know, they buy up everything they can. NFM, Wirth and Lovat – now Lovsuns – all companies that now have Chinese owners or shareholders. We were also made an offer, 400 million euros for 25% plus 1 share. We're not selling. If you like, we are the "last of the Mohicans" producing high-performance, innovative tunnel boring machines in the Western Hemisphere.
What is clear from my point of view: the Chinese now have the strategy of throwing machines on the market at dumping prices, of landing whole projects including the sale of machinery by offering financing and also of getting the construction contracts. This is not entirely unproblematic for the market as a whole. Because it means both the European and the North and South American construction companies are in the sights of Chinese ambitions. You have to do something to counteract that.
Rivalry and competition are always good for business. However, you have to treat each other fairly. Otherwise it could happen that once the Chinese have achieved world market leadership, they put the prices right up.
In which country or in which region do you see the biggest possibilities for the use of tunnel boring machines today? – Where do you think there is still potential for tunnelling?
Martin Herrenknecht: This is of course still the case in China, but also in Singapore, Malaysia, Australia, New Zealand. We also see enormous potential in Indonesia. Either we are already strongly represented in these regions or are just starting. In South America, an interesting market is also developing: in Brazil, the situation will stabilize after the domestic political difficulties. Argentina, Colombia and Chile are also expanding strongly. I am convinced there will be an interesting market in Africa over the next few years.
What potential do you see there exactly?
Martin Herrenknecht: Africa needs a different strategy, for example in development aid. I mean our taxpayers' money needs to be used quite differently there. In my opinion, in construction projects the equipment and machinery should come from the countries from which the taxpayers' money and development aid actually flow. At the same time, at least 60% of the workers employed there should come from the country the project is in, i.e. be Africans. They would benefit from development aid practically and in the long term. This requires a completely different strategy for the use of development aid funds. We need to build schools there, promote education on the ground, and in this way create exactly the conditions that are necessary so that these people do not have to leave their homeland at all.
Can you tell us some current projects you are heavily involved in at the moment?
Martin Herrenknecht: In Singapore we are currently very involved in the Deep Sewer project. I was recently on a trip with the German Federal President in Perth, Melbourne and Sydney (Australia) and have then visited Kuala Lumpur and Singapore. In France we take part in the groundbreaking Grand Paris Express project.
Of course, we would also like to be part of the Brenner Base Tunnel, which we have already managed to achieve quite well. This epoch-making project is about 45% financed by the European Union. I hope we'll have good sales opportunities in the 2018 tender process. The first three machines from Herrenknecht are being used in the south, in the Tulfes section a hard rock machine is working on the exploratory tunnel. Also worth mentioning is Norway, where double shield machines with segmental lining in hard rock are being used with great success. Particularly noteworthy is also Deutsche Bahn's big project, Stuttgart 21, with the very challenging work for the Filder Tunnel and Bossler Tunnel as well as the Albvorland section, where work just started. In Italy, the St. Lucia Tunnel with a large EPB machine is very interesting.
In Russia, our TBMs are used for metro construction. However, here we are also seeing that because of the economic sanctions against Russia, Russian contractors and clients are more or less compelled to buy from the Chinese. Fundamentally, though, they would much rather work with us. Personally, I believe the sanctions are detrimental, and Russia should be given access to finance from European banks again. Russia is a strategically important neighbor for Europe and Germany.
Martin-Devid Herrenknecht, as the only one of the three children you are working in the company. We already know a lot about Martin Herrenknecht, probably not everything. Could you perhaps tell us a little about yourself, your professional background and what interests you have?
Martin-Devid Herrenknecht: I belong to the second generation. Since my parents' house is just 800 meters away from the company, it was part of my world from a very early age. Since childhood I've been very strongly rooted in the company. I often sat in the passenger seat when my father was on his way to a customer and watched what he does when problems arise and how he acts. To be part of it all so early means that you know many colleagues in the company and also some of the customers with whom we successfully realize projects, almost for decades now. In addition to this strong personal relationship, I often worked here in the company or on jobsites during my vacation.
I completed my mechanical engineering studies in Munich, and then, with various positions in other companies – hydraulic companies like Bosch-Rexroth or BMW with the construction of prototypes at Plant Zero – gained a little distance from home. In 2014 I joined Herrenknecht on a permanent basis, as head of projects in China, Mexico and Qatar. At the moment, I am increasingly working superordinately within the Group and with a stronger focus on the Group Brands in the technical area. One topic that interests me personally is digitalization in construction and at our company specifically, pushing projects in research and development. What I especially like is our medium-sized structure, which allows to launch own projects. I really enjoy the variety of areas we work in and the diversity of day-to-day business.
So that means digitalization is one of your special areas of interest?
Martin-Devid Herrenknecht: Yes, definitely. Digitalization in construction, specifically in tunnelling, is a very exciting, topical subject. In particular, there are huge opportunities in the interaction between contractors, planners and us, the manufacturer of tunnel boring machines. How is the market evolving in this context and how do we evolve to be optimally positioned is one of the key questions we keep asking ourselves.
Does digitalization relate more to production, execution or is it rather in the direction of BIM, i.e. use on the jobsite?
Martin-Devid Herrenknecht: We are approaching this with a very open mind, there are massive discussions going on in the market. Our main task is to find out what is really happening as a result of digitalization. This raises questions such as: can it be financed; does it make sense for production or for the implementation in a project? What measures and innovations are necessary in machine technology to meet new requirements? Of course, we are also fortunate that we build prototypes and project-specific one-offs and are therefore always among the first in the development chain. Not to forget the risk we operate within the project business. Especially in the discussion about BIM – Building Information Modeling –there is still a great deal of uncertainty and in some cases bafflement about what can or should be used as well as when, where and how.
Which areas of the company do you personally find particularly exciting?
Martin-Devid Herrenknecht: Above all, I am fascinated by the project business abroad, with its variety of cultures that you encounter on a daily basis, that you get to interact with, or sometimes have to interact with. How differently people handle technology in different cultures. In Germany, in Europe, for the most part, everything is perfectly organized. On other continents, you have to have a completely different approach to people, partners or employees in order to successfully complete a project. Then you can understand the technical accomplishment and expertise behind our work, behind the know-how of Herrenknecht. I find it fascinating to continue developing this particular technology. For example, the accessible cutting wheel. To optimize such applications without getting into a kind of "over-engineering". The benefits for the customer, safety and efficiency as well as the cost factor are the requirements that must always be in the foreground.
Dr.-Ing. E.h. Herrenknecht, the company is steadily moving upward in terms of revenue. How do you see the economic opportunities in tunnelling for Herrenknecht and worldwide? – Will a limit to revenue and technical feasibility ever be reached?
Martin Herrenknecht: After an order inflow of 1.236 billion euros in 2015 and 1.267 billion euros in 2016, in 2017 we were able to achieve an order inflow of around 1.308 billion euros. In addition to the core business of tunnelling, we are also specialized in mining, where, for example, ore mining is increasingly undergoing modernization work worldwide. Our direction is: in tunnelling we will continue to maintain the revenue level and we will further expand the Mining division with 100 to 150 million euros. With special equipment we are also well positioned in the exploration/vertical drilling rig sector for the oil industry, where e.g. in the North Sea various work on numerous existing boreholes needs to be carried out professionally. We are also involved in the construction of foundations for the wind turbines in the North and Baltic Seas. A particularly interesting new development is the Variable Density tunnel boring machine, which we designed together with our partners in Malaysia and which is also being used in Paris. Another completely new development is a method for the laying of underground cables, from the North and Baltic Seas to Bavaria and into Switzerland. I am convinced that the wind farms in the North and Baltic Seas generate the most energy and projects by the German "Green Party" such as setting up wind turbines here in the Black Forest cannot even begin to be anywhere near as productive.
So that means Herrenknecht is growing well beyond tunnelling itself?
Martin Herrenknecht: The Business Units Traffic Tunnelling and Utility Tunnelling are a solid and broad base for our company. Here we have to face the state-backed competitors from China. We have our strategy to counter this. First and foremost, we want to convince our customers with maximum quality and efficient service. A good example is the Bosphorus Tunnel in Istanbul (Turkey), which would never have had a successful breakthrough with Chinese companies. Unfortunately, the crazy thing is that today only the prices count. Whether an offer involves a high percentage of service often doesn't play a significant role. However, I am firmly convinced that the area of ​​services in particular will become increasingly important in future tunnelling projects. Herrenknecht also has 40 years of project experience, a tremendous amount of expertise that our customers can rely on. Know-how comes from gaining and having experience, not from copying.
With all the awards for your outstanding achievements in recent years/decades, there must be one award you are particularly proud of, Dr.-Ing. E.h. Herrenknecht?
Martin Herrenknecht: The STUVA Prize, which I received in 2005 in Leipzig, was certainly a recognition by the tunnelling industry of which I am very proud. Or the ITA Lifetime Achievement Award in 2016. The Werner von Siemens Ring is also a very special award for me, as well as the Mechanical Engineering Award in 2017. Above all, those are awards that not everyone gets, and I appreciate that about them. For me personally, the most important thing is that we get an order. Awards and prizes are nice gestures, also for the employees. Therefore, I usually accept such awards in the name and on behalf of my employees, who are significantly involved in our success. A special personal honor for me is the Federal Cross of Merit. But at the end of a long day, I find my very personal confirmation in the projects we are involved in: Brenner Base Tunnel, Gotthard Base Tunnel, Stuttgart 21, Bosphorus Tunnel, 4th Elbe Tunnel Tube, the development of micromachines and many more.
You are a person who likes to let other people share in success and are very dedicated, supportive and helping. Which topics are particularly close to your heart?
Martin Herrenknecht: The training of young people, the training of the next generation in all different areas of the company is especially close to my heart. We accomplish this, for example, with a technically and professionally very good apprenticeship in the Herrenknecht training workshop, with a state-of-the-art machine park. Management training is another aspect, in order to hold our own worldwide. We support the Max Planck High School every year, in order to promote education in science and technical subjects. We support the Karlsruhe Institute of Technology (KIT), the Ruhr University Bochum, the Technical University Braunschweig, the RWTH Aachen University and many other research institutes, social and local centers, as well as several athletes and sports. In total, that's over 150 different donations each year.
Martin-Devid Herrenknecht, in early 2017 you came into contact with Elon Musk and his ideas for tunnelling. What has come of that?
Martin-Devid Herrenknecht: Elon Musk personally is very interested and has sought contact with Herrenknecht. He estimated his involvement in tunnelling at about two percent. We were in negotiations for the purchase of a Herrenknecht TBM, but it didn't eventuate. In the end he bought other, used machines. He's also known for his way of just doing things. He sets a completely different pace with its own dynamics. His ideas are not new, however. We have made considerations in these areas for a long time, and others are doing the same. Ultimately everything has to be technically and economically feasible. Personally, I think it's great that Elon Musk stirs things up there and builds up pressure. At the same time, we hope he can stay the course, learn from the mistakes he makes and perhaps also raises the two percent tunnel share a little higher.
Martin Herrenknecht: Musk certainly has some ideas that can fascinate. For example, Hyperloop or also Cargo Sous Terrain and CargoCap are projects that are interesting. If in the end it turns out that you travel at less than 1,000 km/h in the capsule and operate an inner-city network, of course, that would be acceptable too. Transporting waste or supplying department stores in this way would be an important approach to reducing the traffic in our cramped inner cities. The trend in the megacities is very clear: in Singapore, for example, vehicles are limited, i.e. before you buy a new one you have to sell the old one first. Parallel to this limitation, however, an excellent infrastructure must be created. In Singapore, the goal is to find either a subway or a bus station within a distance of 300 meters at the most. The future of our big cities is definitely underground, no matter if it's sewage, water, gas, traffic or deposits. There have already been thoughts, for example, about crossing under Paris from north to south with an 18 m diameter double-deck tunnel and accommodating large capacities.
In your opinion, where is there still potential for new and further development in tunnelling, in technology?
Martin Herrenknecht: In Singapore, for example, with the difficult geology, where rock formations, high water pressure of 5 bar and soft soil are present within short distances, there we will certainly also have to develop new machines in the future. An interesting task in the future in Germany is the installation of long distance pipelines from north to south in order to transmit the energy generated by the wind turbines on the North and Baltic Seas. Major missions in tunnelling will result from the supply and disposal of our large cities and metropolises without having to drive into these urban centers by truck. I doubt that drone technology will be the answer. In my opinion, underground construction is still the best, most environmentally friendly and promising solution. Precisely that is already the solution in Singapore, for example: big road projects, the targeted expansion of the metro infrastructure, everything underground: that, I am convinced, is the future. The high-speed rail links alone that are planned in Thailand and between Kuala Lumpur and Singapore show the directions planning is going on every continent. Or e.g. the development of expanding the old Silk Road or long-distance connections in Russia. In North and South America, high-speed rail links are also being considered to connect the metropolises with each other and minimize the burden of road traffic.
Has an innovation limit for new technologies in tunnelling been reached or where is the journey going?
Martin Herrenknecht: With absolute certainty, in the area of ​​digitalization alone there are wide-ranging requirements for visualization, data acquisition and the evaluation of algorithms, also with regard to BIM. I see another development with significant potential in the accessible cutting wheel. If, for example, you have to change the tools on the cutting wheel in situations such as the drive under the Bosphorus, at 11 bar, there you can't just send divers in. Here we have a development that we can measure the rotations of the discs and thereby determine which disc cutters are working properly and which are not. This allows us to change the disc cutters before major damage occurs. Another development could be the partially automated control of the tunnel boring machine.
In Paris, at the ITA Awards in November 2017 a robot received an award for the tool change on the cutting wheel. How do you both see this development?
Martin-Devid Herrenknecht: Of course, the development toward automated processes – especially in tunnelling, in tunnel boring machines – is unstoppable. Associated with this is a high level of occupational safety, paired with economical workflows. In some cases, there are processes that have been continuously improved over years, almost decades. It's about developing the best possible solutions. It's precisely in this context that companies such as Bouygues, Vinci, Eiffage or Gamuda are incredibly important to us, because these businesses really do drive developments forward.
Martin Herrenknecht: 20 years ago, Prof. Maidl and I were in Japan and saw the development department there, who with 20 engineers were looking for solutions for automatic ring building. Today's state of the art meanwhile makes it possible to tackle automated segment installation once again. Bouygues is one of the few, very innovative companies in tunnel construction. French contractors in general are very inventive, technology-friendly and push the technology where they can. The Germans, on the other hand, are very cautious and shy away from the new. If they could, they'd like to build a wall around Germany. Like scared rabbits, they try to stick to the norm. And yet we are exposed to a dynamic where you really have to be on your toes. The Chinese, for example, want to get out of their situation at any cost, working 12 to 14 hours a day, so that the children are better off than their parents. And that is exactly what drives the Chinese and what we are meanwhile missing.
In our Academy, we trained young Egyptians for three months. The breakthroughs at the Suez Canal Tunnel took place at the turn of the year 2017/2018. For us it is very important to be able to offer a good standard in training and further education with the Academy. This applies to the training of engineers worldwide as well as of our own employees, especially interesting above all through international speakers. Training our young talents is particularly important to us.
The Herrenknecht Academy is a state-of-the-art, top equipped training and exhibition center on the plant premises in Schwanau. Customer training sessions, factory acceptances, workshops, lectures by politicians and events of all kinds take place there.
New and further developments in tunnelling continue to depend on the companies which drive this forward. What is happening in this respect from your point of view?
Martin Herrenknecht: There are customers who are very active in this regard. Ghella and Acciona, for example, who build tunnels using double shield machines in Norwegian hard rock with segmental lining. I would not have dreamed of that a few years ago. In extreme hard rock with up to 300 MPa compressive strength, with fissures in the rock in front of the cutterhead full of groundwater. Or hard rock machines in the Caucasus with the Russians, with screw conveyor discharge in the center and not with a belt conveyor. These are new developments that we push forward together with the customer. These are Bouygues, the Russians, Gamuda and, above all, developments that have long ceased to occur in Germany. Most of our developments now take place abroad.
Also now for example in Australia or Singapore, where the customer specifically expresses wishes and requirements for the tunnel boring machine. Here we are very much called upon to find innovative solutions.
Here in Germany, for example, they didn't dare tackle the Steinbühl Tunnel because of the present karst. In Kuala Lumpur, Gamuda has pushed new developments and developed the Variable Density TBM because of the karst problem. In Germany they are over-cautious. As soon as something happens, such as at the Rastatt Tunnel, the entire construction of infrastructure is called into question. This attitude is very dangerous, as we have seen in the development of tunnelling in Japan. Japan once led the development of tunnelling 20 or 30 years ago, and today Japan has lost all significance on a global scale. China is really on the rise, with huge financial reserves, but that will eventually come to an end.
Martin-Devid Herrenknecht, a rather personal question: as the son of the company founder, you are bound to be subject to extra scrutiny, in the company as well as outside. How do you deal with that?
Martin-Devid Herrenknecht: Here in the company most people know me anyway, and have done for a long time. So, it wasn't a big adjustment for me and everyone else when I joined the company here. Many customers have also known me for many, many years.
How and above all where do you see yourself in the company in the future?
Martin-Devid Herrenknecht: Well, above all, the focus is on safeguarding the company and on the quality of our products and services. It is important to me and to us that the company is sustainable for the long term and continues to expand. As far as the operating activities are concerned, I am gradually familiarizing myself with all areas. Among all the old hands, I clearly express my opinion on the subject at hand. And when the top responsibility comes, I won't say no.
Dipl.-Ing. Roland Herr, Internationaler Freier Journalist und Autor/ International Freelance Journalist and Author, Bangkok, Thailand; Wetzlar, Deutschland/Germany, E-Mail: herrroland@t-online.de