Formwork Technology
Application of Wall Formwork without Crane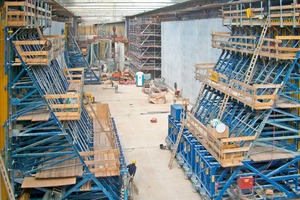 2  Metro stop HafenCity Universität: 26 wall panels are produced by the pilgrim step method with a total of 4 one-sided shuttering sets
The new "HafenCity" district being built in Hamburg has necessitated the construction of a new underground railway line to link it to the city centre. The U4 line runs from the existing Jungfernstieg Station underground in a southerly direction. Two new stations are being built in the HafenCity: "Übersee-quartier" and "HafenCity Univer-sität". The Hamburger Hochbahn AG, which operates the existing 3 Metro lines and more than
110 bus lines in the hanseatic city, is the client.

Construction of the U4 involves 3 sections. The first relates to the area at the Jungfernstieg landing point. The second...