India
Chennai Metro Expansion Phase 2: Diaphragm Wall Works at Chetpet Station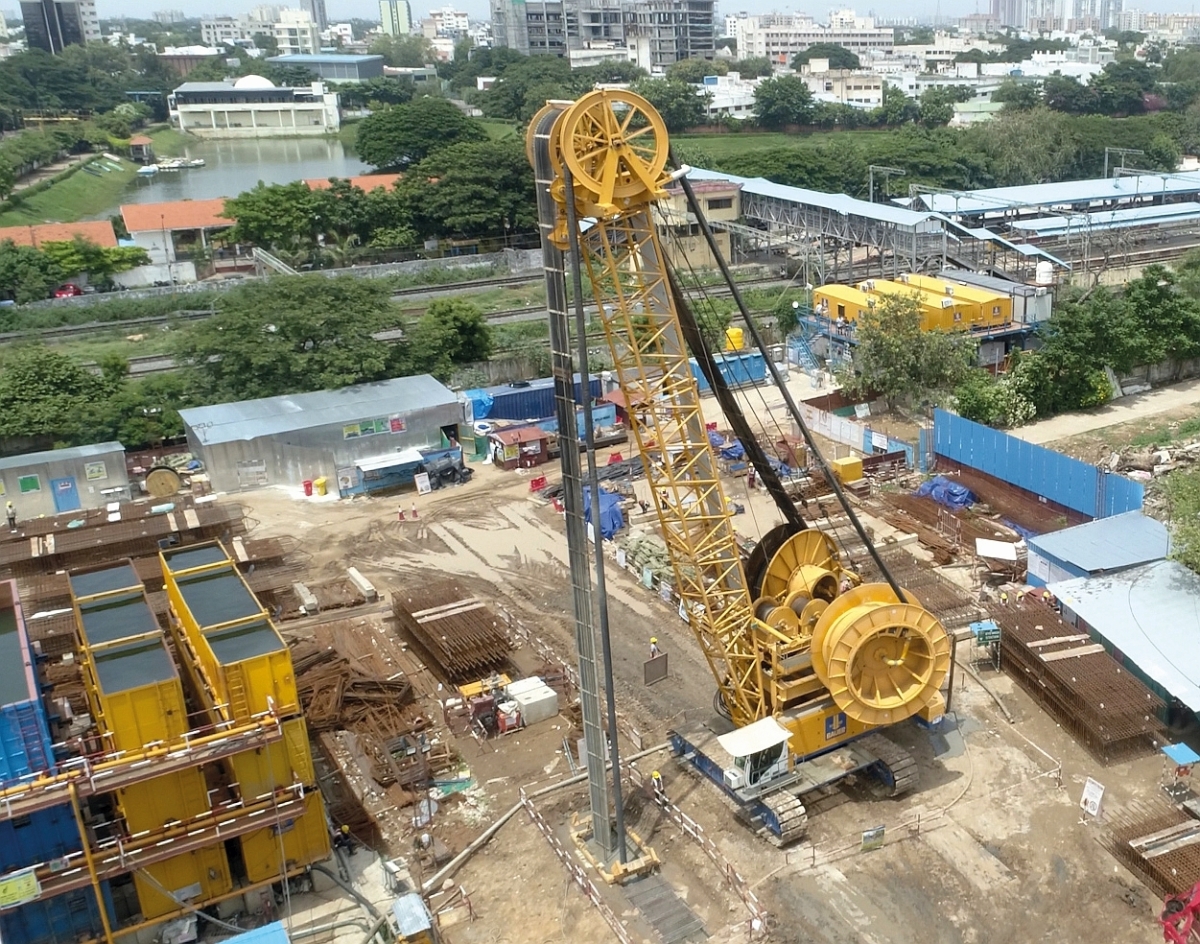 Construction site Chetpet station, Chennai: Bauer MC 128 duty-cycle crane cutting a panel
Credit/Quelle: Bauer Group

Construction site Chetpet station, Chennai: Bauer MC 128 duty-cycle crane cutting a panel

Credit/Quelle: Bauer Group

Chennai, a metropolis with millions of inhabitants, is the capital of the southern Indian state of Tamil Nadu. Like many large Indian cities, Chennai has had to cope with considerable population growth in recent decades. One solution to manage the corresponding increase in traffic in the densely built-up coastal city is to move infrastructure underground.

The Chennai Metro has been in operation since 2015. So far, it consists of two lines with a total length of almost 46 km, of which around 24 km are underground. In the meantime, the further, extensive expansion of the metro network has begun, which is to be extended by three additional lines with a total route length of almost 120 km.

In April 2022, phase 2 of the large-scale project started at the Chetpet metro station. Bauer Engineering India Pvt. Ltd., a subsidiary of Bauer Spezialtiefbau GmbH, was commissioned to carry out the necessary diaphragm wall work.
286 m³ Concrete for Each Diaphragm Wall Panel
In total, more than 15 000 m² of diaphragm wall were constructed down to a depth of 35 m. The work to construct a panel is divided into three steps:
excavation of the slot using bentonite as stabilising fluid
installation of the steel reinforcement cages
concreting
"The steel reinforcement cages each have a length of around 33 m and weigh a good 35 t," explains Hassan Farhat, project manager at Bauer India. A total of 286 m³ of concrete per diaphragm wall panel is filled in just six hours.
The special thing about this project: there is zero tolerance when it comes to panel excavation. Moreover, the construction site is located in an area where considerable amounts of rain fall in the monsoon season – i.e. during the construction phase. The soil composition of sand, silt, stiff clay and rock is also very demanding. "An additional challenge is the logistics, as the new metro station is located in an urban area, which means that the work has to be carried out in a very confined space. This requires extreme caution and good organisation," Hassan Farhat adds.
A Bauer MC 96 duty-cycle crane with a DHG-C hydraulic grab and an MC-128 duty-cycle crane with a BC 40 cutter were used for the work scheduled for completion in early 2023. Furthermore, digital tools such as the data management software b-project or the Virtual Site Installer were used.