5th International Symposium in Innsbruck
2012 Brenner Congress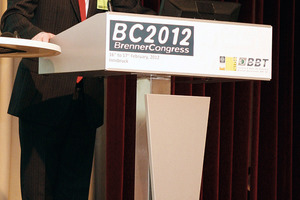 Prof. Konrad Bergmeister, BBT SE board, University of Vienna at the 2012 Brenner Congress at Innsbruck

On February 16 and 17, 2012 the universities of Innsbruck and Bolzano jointly staged the international conference "2012 Brenner Congress" in collaboration with the Brenner Basistunnel-Gesellschaft (BBT SE) and the Viatec, International Fair for Infrastructure Products in the Alpine Region. This year the event was held in Innsbruck chaired by Prof. Konrad Bergmeister from the BBT SE and Vienna University and Prof. Walter Purrer from the University of Innsbruck.
Around 300 participants – engineers, scientists, clients and contractors – from 6 different countries attended the congress. It provided information on the current status of the BBT, scientific simulation of the rock with the tunnel, the access routes and approaches for settling disputes when executing construction on major sites. On Day 2, new recognitions relating to the application of tunnel boring machines (TBMs) in the Alps were presented while natural hazards and protective structures in the Alpine region were highlighted.
Brenner Base Tunnel and Access Routes – Status and Outlook
To...