Combating Fire with compressed Air Foam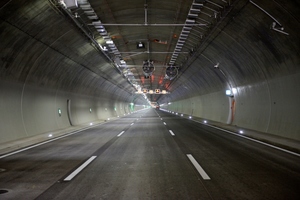 Quelle/credit: One Seven of Germany GmbH
Fire extinguishing system installed in the tunnel
Quelle/credit: One Seven of Germany GmbH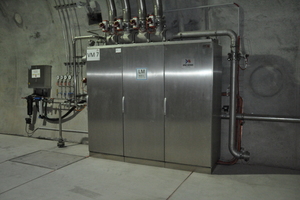 Quelle/credit (2): One Seven of Germany GmbH
Foam module with directional valves installed above. Left at the side is a group of fixtures for supplying air to control the valves in the extinguishing sector of the tunnel bores
Quelle/credit (2): One Seven of Germany GmbH
The Jagdberg Tunnel on the A4 motorway
near Jena was opened in November 2014.
A compressed air foam extinguishing system was installed in the roughly 3.1 km long tunnel.
Prior to installation the functionality of the system was simulated at length and tried out during fire tests in the tunnel in May 2014.
The Jagdberg Tunnel is part of the German Unity No. 15 Transport Project, which involves the upgrading of the A4 between Eisenach and Görlitz. The 130 km route which has been widened for six lanes largely lies in the jurisdiction of the Free State of Thuringia. The Deutsche Einheit Fernstraßenplanungs- und -bau GmbH (DEGES) was commissioned to build the contract sections containing the tunnel. The A4 was produced during the 1930s and no longer complies with modern standards. Extreme inclines of up to six per cent, unfavourable visibility conditions in bends as well as narrow shoulders or a...