Germany
Completion of Tunnelling Work for Berlin's new U5 Line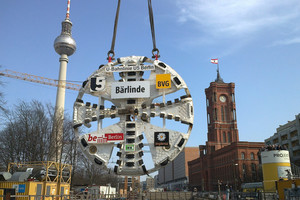 Quelle/credit: Antonio Reetz-Graudenz
The 74 m long TBM "Bärlinde" drilled under the Spree River, on to the Humboldtforum and Spree Canal, below Unter den Linden and onwards to the subway station at the Brandenburg Gate
Quelle/credit: Antonio Reetz-Graudenz
Upon reaching its final position at the Brandenburg Gate on October 14, 2015 the Mixshield "Bärlinde" has successfully completed its mission in Berlin. Behind the tunnel boring machine (TBM) are two 1620 m long parallel tubes, built through the historic center of the German capital. In the process a total of 1076 tubbing rings were installed
Since 2010 the 2.2 km long extension of the subway line U5 from Alexanderplatz to the Brandenburg Gate is being carried out by the municipal transport company Berliner Verkehrsbetriebe (BVG) and its subsidiary Projektrealisierungs GmbH U5 on behalf of the German Federal Government and the State of Berlin. The Swiss construction company Implenia Construction GmbH is handling the construction work of Lot 1. This includes drilling the two tunnel tubes, building the shells of the Museuminsel and Unter den Linden underground stations, and building the track switching system and start shaft. 1.6 km of the 2.2 km long new line were built by mechanized tunnelling using the Herrenknecht Mixshield S-788, christened "Bärlinde". The overall project includes extending the existing U5 line from Alexanderplatz to the Brandenburg Gate and linking it up with line U55, which has already been completed
After the start on June 20, 2013 the 74 m long, 700 tonne Bärlinde tunnelled her way from the launch shaft on Marx-Engels Forum to the Brandenburg Gate. With overburdens of 5 to 17 m, the machine with a shield diameter of 6.67 m worked its way under the river Spree, the Spree Canal and Schlossplatz through the two future stations Museumsinsel (Museum Island) and Unter den Linden along the boulevard Unter den Linden. Currently Bärlinde is awaiting disassembly and transport of the back-up and the shield components back to Marx-Engels Forum. The connection to the subway station Brandenburger Tor planned for 2016 is being created manually.
Designed especially for heterogeneous soils and high water pressures, on the shield drive through the center of Berlin the slurry-supported TBM mastered complex geological challenges: groundwater at a depth of only 2 to 3 m below the surface, sandy and in the Spree area sludge laced soils as well as large granite boulders.
For safe undercutting of the Spree and the Spree Canal with overburdens of sometimes only 5 m the construction company originally planned elaborate ballasting of the river and canal beds with 40 cm thick steel plates. In a joint effort client, construction company, a research institute and the machine manufacturer Herrenknecht  developed a smarter solution: in some stages the machine was driven using a higher density bentonite suspension (HDSM = High Density Support Medium). This meant that in comparison to conventional suspensions, with considerably higher transferable support pressure the penetration depth into the soil ahead of the machine was significantly reduced. Thanks to the HDSM used (up to 1.4 t/m3) and with as little pressure as possible but as much supporting effect as necessary, Bärlinde safely crossed under the Spree with very low overburden beneath the riverbed. Big Bags (large sandbags) lowered into the water near the banks provided sufficient weight. Shipping remained unimpaired. The modification of the machine for the HDSM drive was already taken into consideration during design, factory assembly and jobsite assembly. During the advance no further alterations were necessary.
The entire 2.2 km long new line is scheduled to be completed in 2020. It will run from the future subway station Berliner Rathaus to the metro station Brandenburger Tor. Once the new line has been connected with the existing 1.5 km long section of the U55 and the 18.3 km long current U5, the new U5 will have a total length of 22 km from Hönow to the main railway station.