Germany
U5 Tunnel Berlin: Breakthrough to Brandenburg Gate Metro Station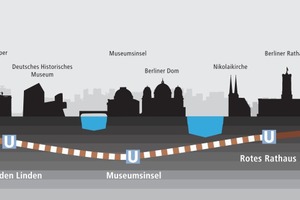 Quelle/credit: BVG
After the breakthrough between the new U5 tunnel and the Brandenburg Gate Station in Berlin, the tracks are now being laid. As from 2020, the 1.6 km long section closing the gap between the U5 and U55 is scheduled to become operational thus creating a combined 22 km long route
Quelle/credit: BVG
The U5 project in Berlin is one of the most important ongoing infrastructural schemes in Europe for Implenia. On March 22, 2017 the final concrete wall separating the new U5 tunnel from the Brandenburg Gate Metro Station was penetrated. This took place in the presence of the Governing Mayor Michael Müller, Dr. Sigrid Evelyn Nikutta, the chair of the board and responsible for operations with the Berlin Transport Companies (BVG), Ute Bonde and Jörg Seegers, managing directors of the company responsible for implementing the U5 project (Projektrealisierungs GmbH U5), as well as Stefan Roth from the Implenia Germany and Austria executive. In this way, the gap between U55 (Central Station–Brandenburg Gate) and the traditional U5 (Alexanderplatz–Hönow) has been closed.
On behalf of the BVG and under the guidance of the Projektrealisierungs GmbH, a 100 percent subsidiary of the BVG, Implenia has been engaged in constructing the new U5 since 2011. The project entails the extension of the existing U5 beyond Alexanderplatz up to the Brandenburg Gate and the new link with the U55, which began operating in 2009.
This signifies that the tunnel roughwork has been completed, which commenced with the start-up of the "Bärlinde" tunnel boring machine (TBM) back in 2013. The Herrenknecht Mixshield produced two 1.6 km long tubes one after the other by October 2015 and installed 2147 segmental rings. Track-laying for the tunnel route began in May 2017. As from 2020, services are due to operate on the entire 22 km long route involving the combined Metro lines between Hönow and the Central Station after the completion of the three new Metro stations: Rotes Rathaus, Museumsinsel and the Unter den Linden transfer station. The two last-mentioned stations are also Implenia projects.