Switzerland
Gotthard Base Tunnel wins the 2018 Euro­pean Railway Award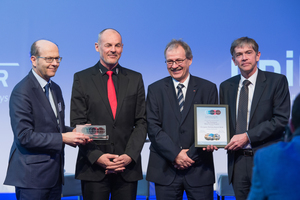 Quelle/credit: CER/UNIFE
Renzo Simoni (former CEO of AlpTransit Gotthard AG, 2nd from the left) and Peter Jedelhauser (SBB, 2nd from the right) received the 2018 European Railway Award in Brussels on behalf of everyone involved in building the Gotthard Base Tunnel and putting it into operation
Quelle/credit: CER/UNIFE
On February 20, 2018, Peter Jedelhauser (SBB) and Renzo Simoni (former CEO of AlpTransit Gotthard AG) were in Brussels to collect the 2018 European Railway Award on behalf of everyone involved in building the Gotthard Base Tunnel (GBT) and putting it into operation. Regarded as the highest accolade in the European rail industry, this prize is awarded by the Community of European Railways (CER) and the Association of the European Rail Industry (UNIFE).
The jury's decision was based on a number of factors, including the great significance of the tunnel in terms of transport policy for transalpine freight services in Europe. The jury praised Peter Jedelhauser and Renzo Simoni for their instrumental roles in building the GBT and putting it into operation.
CER Executive Director Libor Lochman gave his assessment: "In Switzerland there is clear public support and political commitment to shifting the transport of freight from road to rail. The GBT is part of this plan and it is hugely valuable to the people of Europe." Philippe Citroën, Director General of UNIFE, added his own views: "The longest railway tunnel in the world is not just an outstanding example of European engineering prowess. By overcoming geographical and infrastructural obstacles, the tunnel demonstrates how rail traffic can play a crucial role in ensuring an efficient and environmentally sustainable economy in Europe."
At the award ceremony, Renzo Simoni explained the vital importance of the GBT in terms of transport policy on the Rhine-Alpine Corridor. He particularly highlighted the fact that it is "the first transalpine flat route for freight traffic", pointing out that its highest point is only 550 m above sea level.
Aside from all the technical superlatives, there was one thing Peter Jedelhauser was keen to stress in his acceptance speech: "The Gotthard Base Tunnel project has shown once again that, in spite of all the technological and organisational advances, ultimately it is the people who are the key to success." With this in mind, he took the opportunity to thank all those involved.
European Railway Award
The European Railway Award has been presented every year since 2007. The Community of European Railways (CER) and the Association of the European Rail Industry (UNIFE) award this prize in recognition of outstanding economic and environmentally sustainable developments in rail transport. Previous winners include former EU Transport Commissioner Karel van Miert (2007) and ex-Prime Minister of Spain Felipe Gonzalez (2010). Switzerland claimed the award in 2009, when it was won by former Federal Councillor Moritz Leuenberger, and again in 2013 when it went to the erstwhile CEO of SBB, Benedikt Weibel. The prize money amounts to 10 000 euros. This year's victors are donating all their winnings to charitable institutions: the "Stiftung Personalfonds SBB" and the ARGO foundation for integrating people with disabilities in Grisons.