Further Development
Increased Economy of Tunnel Formwork Carriage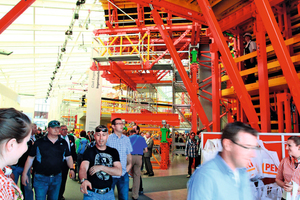 Images: Peri GmbH
During the 2013 bauma a tunnel formwork carriage formed the entrance to the Peri hall set up particularly for the fair. The VARIOKIT engineering construction kit is the basis for the tunnel formwork carriage. Solutions can be assembled more economically and simply with the new system components.
Images: Peri GmbH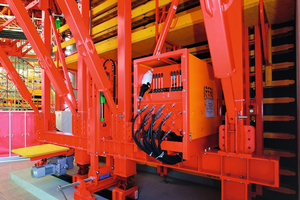 Peri GmbH
The newly developed longitudinal truss consists of a lighter carriage beam and V-strut. As the new construction complies with the VARIOKIT 125 mm grid, it is more adaptable. The new system hydraulic unit was devised especially for tough everyday on-site conditions.
Peri GmbH
Peri GmbH presented new system components and manifold further developments for formwork and scaffolding technique at the 2103 bauma. The tunnel formwork carriage on display were also distinguished by attention to detail, further enhancing economy and speeding up ­assembly.
Peri's presentation afforded visitors the chance to get to know proven and innovative engineering technology in detail on more than 4,000 m² of floor space. In addition to many live demonstrations, the numerous visitors from home and abroad took avail of the opportunity to confer with specialists – especially on the subject of engineering and services.
Engineering Solutions and Services
Since the VARIOKIT engineering construction kit was introduced, various tunnelling projects have been successfully accomplished involving a very high percentage of system components. Experienced Peri engineers devise these kits keeping in mind optimised material use and operation specifically geared to the project. Such solutions are extremely economic for the construction kit components can be applied in a very flexible manner. Furthermore they can be rented from Peri.
Further Development and new Accessories for the Tunnel Formwork Carriage
Based on past experience and an awareness of customer requirements, a number of articles have now been realised as standard solutions. The longitudinal girder, which formerly consisted of HD heavy-duty props and HDT beams, will be replaced by a travelling beam and a V-post for future project applications. The travelling beam is lighter and accommodates the construction kit 125 mm grid – thus affording greater economy and adaptability at one and the same time. A box beam profile is used as vertical V-post, which caters for vertical height adjustments in 5 cm steps. An upgraded lifting and lowering unit is also available for the new carriage beam, covering the entire range of tunnel formwork carriages as a standard solution.
Reinforced RCS rails with DW 26 anchors with heavy bearing capacity can now be used with specially developed accessories for the wall formwork: the strong anchors can be relieved by means of a new device and can even be released under full load. The RCS rails are exploited statically by the DW 26 anchors. Thanks to this solution, the necessary anchor points are further reduced thus avoiding costs.
A hydraulic unit 8 circles, which Peri devised especially for tunnelling, was also on display in Munich for the first time. It is applied for lifting and lowering the tunnel formwork carriage as well as shuttering and striking the side formwork. As the aggregate is closed, it is protected against contamination and provided with an oil sump.