Malaysia
MMC-Gamuda continues Underground Works of MRT Line 2 in Kuala Lumpur after Cost-Cuts of 21.5 %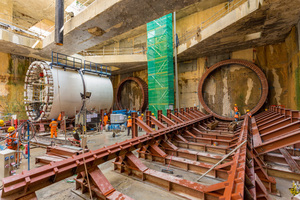 Quelle/credit: MMC-Gamuda
After accepting a cost reduction of 21.5 %, MMC-Gamuda will continue the underground works on Kuala Lumpur's MRT Line 2. This agreement with Malaysia's Ministry of Finance averted the impending termination of the contract by the client. The picture shows tunneling works at the Titiwangsa MRT station
Quelle/credit: MMC-Gamuda
On October 26, 2018 the Malaysian Ministry of Finance (MOF) announced that the Mass Rapid Transit Sungai Buloh-Serdang-Putrajaya (SSP) Line (MRT Line 2) project will be continued by MMC-Gamuda, after the company agreed to a larger cost reduction for the underground works. The Mass Rapid Transit (MRT) project is a strategic Government project which will increase connectivity of the Klang Valley's public rail network.
Construction Cost of Underground Works reduced by 760 million Euros
MMC-Gamuda had previously agreed to cut the costs of the above-ground works by 5.22 billion Malaysian ringgit (1.1 billion euros) or 23 %, whereas MMC-Gamuda's offer to reduce the costs for the underground works by 2.13 billion ringgit (0.45 billion euros) was rejected by the MOF. Hence, it was decided that the underground works contract would be terminated and retendered. However, after Malaysian Prime Minister Tun Dr. Mahathir bin Mohamad requested the MOF to conduct final negotiations with MMC-Gamuda, the company eventually agreed to reduce the original construction costs of 16.71 billion ringgit (3.51 billion euros) for the underground works by 3.6 billion ringgit (0.76 billion euros) or 21.5 % to 13.11 billion ringgit (2.76 billion euros).
This means that the construction costs of MRT Line 2 (excluding interest during construction, land acquisition costs and other costs) has been successfully reduced by 8.82 billion ringgit (1.85 billion euros) or 22.4 % – from 39.35 billion ringgit (8.27 billion euros) to 30.53 billion ringgit (6.42 billion euros).
On October 26, 2018, the Malaysian Cabinet has accepted MMC-Gamuda's latest offer and the cost-cutting measures: All above-ground stations will be built as originally planned, while two underground stations – Bandar Malaysia (North) and Bandar Malaysia (South) – will be postponed, reducing the total number from 35 to 33 stations now.