Ecuador
Quito Metro Line 1: TBM Tunnelling Works to commence in Spring 2017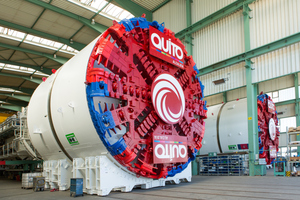 Quelle/credit: Herrenknecht
With a diameter of 9.36 meters the two identical tunnel boring machines for the Metro de Quito are among the larger calibers. By the opening of the metro system the EPB Shields completed in late August 2016 will have excavated more than 17 km of new tunnels
Quelle/credit: Herrenknecht
In Quito one of the highest metro systems in the world is currently being built. The first line will run over a distance of 22 km through the capital of Ecuador. At an altitude of more than 2800 m above sea level, two recently completed Herrenknecht EPB Shields are set to work their way through the volcanic ground, starting in spring 2017.
Metro Line 1, second Phase
Acciona Infrastructure (Spain) and Brazil's Construtora Norberto Odebrecht have been awarded a 1.4 billion euros contract to build the second phase of Line 1 of the Quito Metro.
Acciona has already completed the civil works for the stations of La Magdalena and El Labrador, which were built in phase one of the project. Another 13 metro stations are to be built within the scope of the second phase construction.
The planned tunnel alignment of Quito's first  metro line runs at a depth of about 20 to 25 m below the city, from the Quitumbe bus terminal in the south of the city to El Labrador station in the north, on the site of an old airport. Work on the second phase of Quito Metro Line 1 began on 19 January 2016 at Quitumbe. Construction is expected to take  36 months, with a further six months for systems integration and commissioning.
Tunnelling with Herrenknecht TBMs
In spring 2017 the site crews will be joined by two Herrenknecht tunnel borers. The EPB Shields with diameters of 9.36 m were completed in late August 2016. Together with representatives of contracting joint venture Acciona/Odebrecht and client Quito Metro, the mayor of Quito, Dr. Mauricio Rodas, visited the manufacturer  in Schwanau, Germany, for the technical acceptance of the concurrently assembled and completed machines.
Siemens electrifies entire Metro Line
The German company Siemens has been commissioned by the JV Acciona/Odebrecht to electrify the entire new double-track metro line. The scope of the project includes about 46 km of rigid catenary, 6 km of flexible catenary, eleven traction power supply stations, 29 auxiliary power supply stations, and the SCADA (Supervisory Control and Data Acquisition) system for monitoring and controlling the traction power supply.
350 000 Passengers daily
The new rail system is an important step in the modernization of the metropolis. It is expected to be put into service in the summer of 2019 and will transport more than 350 000 passengers daily. It will link the north and south of the city in just 34 minutes, reducing current surface transportation time by almost an hour and a half. At the moment the high volumes of traffic regularly cause congestion and smog. The switch to a more environmentally friendly mass transportation system is designed to remedy the situation and save up to 30 000 t of CO2 emissions per year.