USA
Strategic Subway Extensions in Los Angeles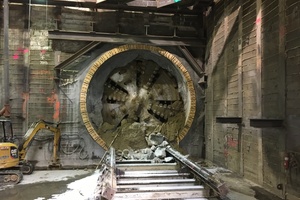 Quelle/credit: Herrenknecht
In April 2017 EPB Shield "Harriet" completed its tunnelling mission totaling 3.2 km under Los Angeles as scheduled. The new Crenshaw/LAX Transit Corridor will reduce inner city travel times and improve the connection to the international airport LAX
Quelle/credit: Herrenknecht
Los Angeles suffocates in traffic during rush hour. For this reason the Los Angeles Metropolitan Transportation Authority (Metro) is pushing ahead at full speed with the expansion of local transport links. In the coming years, the existing metro rail network will be expanded in a number of different places.
Crenshaw/LAX Transit Corridor
The latest example is the Crenshaw/LAX Transit Corridor. The nearly 14 km long new light rail route will improve the connection between the urban centers of Crenshaw and Inglewood as well as the region around Los Angeles International Airport (LAX). LAX...