Switzerland
Test Operation in the Gotthard Base Tunnel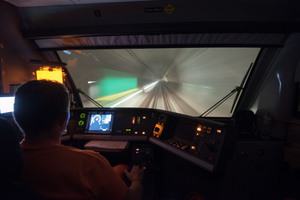 Quelle/credit: AlpTransit Gotthard
Since early October 2015, the test operation phase in the Gotthard Base Tunnel has been in full swing. Numerous test runs have already been performed, with trains speeding at up to 275 kilometres per hour through the world's longest rail tunnel |
Quelle/credit: AlpTransit Gotthard
Since early October 2015, the test operation phase in the Gotthard Base Tunnel has been in full swing. Numerous test runs have already been performed. Until May 31, 2016, around 5000 test runs are planned, with trains speeding at up to 275 kilometres per hour through the world's longest rail tunnel.
Following receipt of the release by the Swiss Federal Office of Transport, test operation started on schedule on October 1. A short time later, the first test runs with the new train control system, ETCS Level 2, were conducted.
The first tests were performed with the Swiss Federal Railways (SFR)...