United Kingdom
Work Coordination on the London Power Tunnels 2 Project with a Common Data Environment
The city of London provides power to its population with a widespread electrical grid, but ongoing maintenance to the web of suspended cabling causes frequent disruptions to urban life. National Grid, a multinational electricity and gas utility company and key electrical provider for London, determined that moving the cabling belowground would significantly reduce the impact of maintenance on residents. Since creating underground power tunnels requires a significant amount of time and effort, National Grid broke up the project into two phases.
32.5 km Long Tunnel for Power Supply
The first phase, which moved the northern portion of London's power grid underground, was initiated in 2011 and finished in 2018; the investment costs amounted to approximately 1.1 billion euros. The second phase of this effort, known as London Power Tunnels 2, will establish a 32.5-kilometer tunnel in London that crosses two rivers and 15 railways at a cost of around 1.5 billion euros.
National Grid partnered with Mott MacDonald, a global engineering, management, and development firm, to determine how to build this complex project. To avoid clashes with the railways and the infrastructure of the dense urban areas, the power tunnels for this phase are built up to 63 meters below the city's surface. In addition to the main tunnel Mott MacDonald was responsible for coordinating the work of six specialist organizations that would create three substations, cabling, and headhouses, as well as handle cable installation. Clear communication and data sharing is critical for delivering the project on time.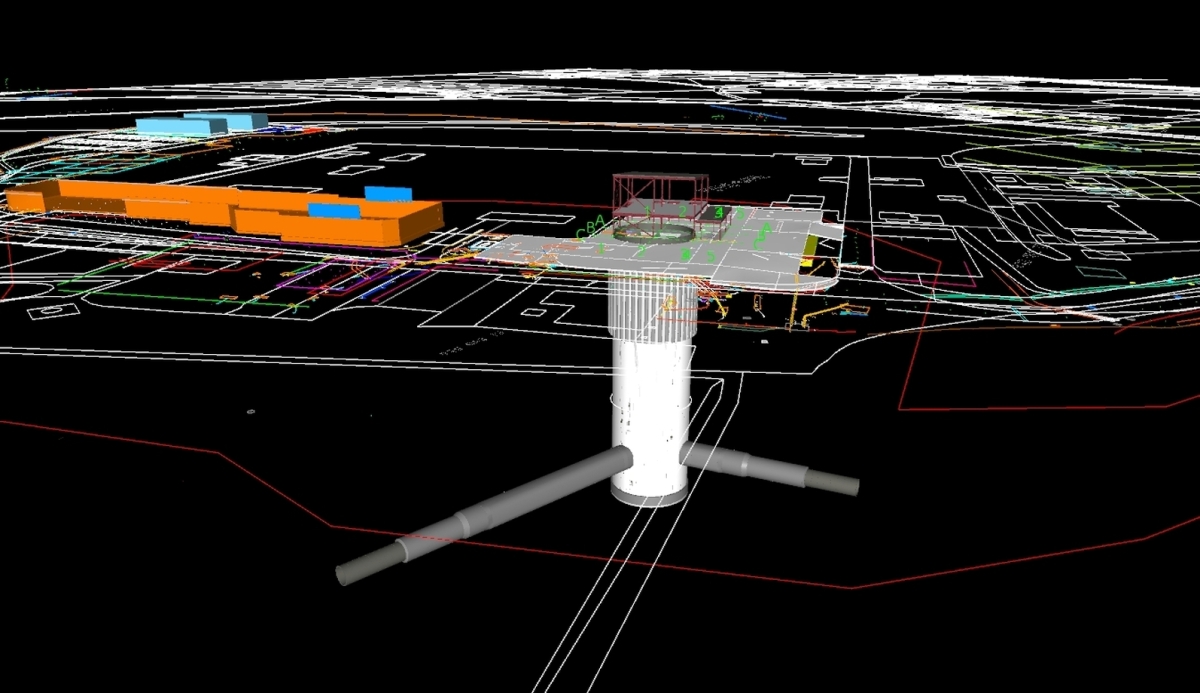 Mott MacDonald and National Grid established Project 13 principles on the project by using ProjectWise to create a common data environment
Credit/Quelle Mott MacDonald/National Grid
Mott MacDonald and National Grid established Project 13 principles on the project by using ProjectWise to create a common data environment
Credit/Quelle Mott MacDonald/National Grid
Collaborative Project Delivery
To combine and streamline the work on the various elements of the project, the National Grid and Mott MacDonald adopted the Project 13 initiative from the British Institution of Civil Engineers. The initiative seeks to boost productivity, improve outcomes, and support a more sustainable and innovative design process through collaboration that supports the entire enterprise. "The approach is a step change from the way traditional engineering projects are delivered and seeks a collaborative, efficient project delivery," said Robin Dickenson, senior digital consultant, Mott MacDonald. "Adversarial, transactional project culture is replaced by a collaborative enterprise in which parties are rewarded for achieving the common goals of the project."
A key element of Project 13 collaboration is the use of advanced technology to facilitate the development process. Mott MacDonald and National Grid sought software that could easily and effectively allow them to make the cultural shift to working digitally. To fully meet their goal, the software would need to enable all stakeholders and all contributors from different disciplines to seamlessly collaborate. In their previous data management strategies, organizations only passed information among contributors at specific times. The goal was to give contributors information when necessary, but the practice resulted in data silos and bottlenecks. Mott MacDonald and National Grid needed to find software that could eliminate any data sharing problems and help the team complete the project on time.
Sharing Trusted Information with All
Stakeholders
The organizations decided that Bentley applications were the best fit for the complex project. They first established a common data environment using ProjectWise, ensuring stakeholders and designers from all disciplines had access to all project data at any time, no matter their location. The team then developed workflows to promote information sharing as well as to enforce document standards. "The team has successfully built a common data environment that can manage ISO 19650 processes alongside a separate, unique client document numbering and revisioning process. This level of configuration was essential for the adoption of digital processes and adherence to the client's requirements," Dickenson said.
As part of their configuration of ProjectWise to suit their needs, Mott MacDonald and National Grid created a bespoke technical queries process. With specific workflows and permissions, they could control access to communications while eliminating bottlenecks. Additionally, they built a custom notifications system that is triggered by specific events within ProjectWise, which helps team members intervene as needed without inhibiting the project's progress. The team also selected "Synchro" to help them plan an elaborate and wide-ranging construction sequence that showed how to work around the dense urban surroundings.
Instantaneous Distribution of Data
Mott MacDonald and National Grid established Project 13 principles in London Power Tunnels 2 by using ProjectWise. Producing customized workflows allowed the organizations specializing in specific fields to work in the same production environment as the client. These workflows enabled full checking and approvals, but also early visibility to all stakeholders. "[Visibility] is essential for the collaborative culture required in a Project 13 delivery model, and acts to remove the client as a bottleneck for intermediate information sharing," Dickenson said.
Previously, packages of information took between one to four hours to distribute, depending on size. ProjectWise makes information sharing instantaneous, and the ISO 19650 suitability codes give the teams confidence in the accuracy of the data. Replacing numerous data storage systems with a single source of truth has also greatly reduced the time needed for system setup and maintenance. By providing instant visibility of project progress, National Grid can remove risk as well as extract and analyze metrics to monitor development progress. Using "Synchro", designers further increased efficiency and reduced uncertainty by creating a detailed 4D model of the entire construction sequence. London Power Tunnels 2 is now under construction and on schedule for completion by 2027.