Brenner Base Tunnel: Sandvik DT923i Used for Drill andBlast Excavation of the Main Tunnels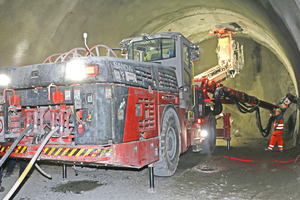 Credit/Quelle: Sandvik
The Sandvik DT923i is a tunnelling jumbo of the latest generation. It was purchased by the executing consortium especially for the H41 Sillschlucht–Pfons construction project and is the first DT923i in Central Europe
Credit/Quelle: Sandvik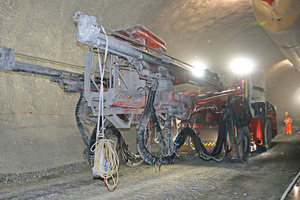 Credit/Quelle: Sandvik
The DT923i scores with a fast and automatic drill pipe extension system, a double roll-over and new high-frequency RD5 series rock drill
Credit/Quelle: Sandvik
Construction lot H41 Sillschlucht-Pfons is one of the largest construction sections of the Brenner Base Tunnel (BBT). At the beginning of May, tunneling jumbo "Lilia" started tunneling the east main tunnel tube from Ahrental in the direction of Italy. Towards Innsbruck, the main tunnels are being built using drill and blast. For this purpose, the consortium in charge of the construction lot – consisting of Implenia Österreich GmbH, Implenia Schweiz AG and Webuild S.p.A, CSC costruzioni SA – is using several Sandvik machines. These include a Sandvik DT923i, the latest generation tunnelling jumbo.
Around 158 km of the total of approx. 230 km of tunnel had been excavated by the end of August 2023. The BBT consists of two 8.1 m wide single track tunnels that run at a distance of 40–70 m. At intervals of 333 m, cross passages connect the two tubes.
Construction Lot H41 Sillschlucht–Pfons
Three construction sites are currently active on Austrian territory, including construction lot H41 Sillschlucht–Pfons. With a length of 14.3 km, it extends from the Innsbruck Sillschlucht gorge via the Ahrental valley to Pfons/Navis. The contract for this construction lot was awarded at the end of 2021 to...