Mooser Vibration Technology
Compressed Air External Vibrator applied to produce the Bjørnegård Tunnel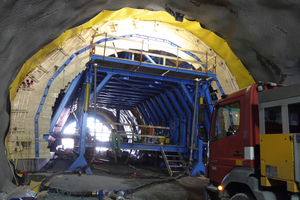 Credit/Quelle: Mooser Schwingungstechnik
1 Compressed air vibrators from Mooser Schwingungstechnik were applied for compacting the concrete when producing the inner shell of the Bjørnegård Tunnel
Credit/Quelle: Mooser Schwingungstechnik
The Bjørnegård Tunnel has been under construction since early 2015 on the Norwegian E18 motorway between Sandvika and Weyen. Within the scope of linking the E16 from the northwest surrounding area of Oslo to the E18 coastal motorway, the entire E16/E18 transport hub is being redesigned. A part of the construction project was already opened to traffic in early November 2018; the residual work is due for completion in March 2019.
The Swedish contractor NCC applied compressed air vibrators made by the German manufacturer Mooser
Schwingungstechnik on a formwork carriage from Messrs. Maxbo Teknikk...