The Tunnelling World focuses on Brazil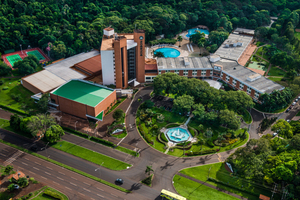 Quelle/Source (2): Em Termos Comunicação
The World Tunnel Congress 2014 and 40th ITA-AITES General Assembly will be held from May 9th-15th 2014 at the Bourbon Cataratas Convention & Spa Resort
Quelle/Source (2): Em Termos Comunicação
From May 9th to May 15th 2014, Brazil will be the focus of the international tunnelling community. The country and the whole Latin American region have already called the world's attention due to the expansion in infrastructure and the number of ongoing projects involving tunnels.
For the time of the World Tunnel Congress 2014 (WTC 2014), Iguassu Falls will become the place to exchange experiences and information, to present and examine new products and services and to strengthen relationships among the participants and the whole tunnelling community.
More than 100 Companies will participate
The organizers expect the WTC 2014 to attract more than 1000 participants from all over the world. About 400 papers have been submitted and evaluated by the Technical Committee. The technical exhibition is sold out and there is a waiting list of companies wanting to take part in the largest tunnelling event. More than 100 companies have confirmed their participation in the congress.
ITA Training Course
The ITA Training Course traditionally precedes the Congress. In 2014, considering the increasing demand for underground works for the production, storage and transportation of energy worldwide, the theme will be "Tunnels for Energy". The large number of underground hydroelectric schemes, that are in operation or being constructed in Brazil, and the significant increase of oil production – forecast due to recent reserves found in the country – were further reasons for the selection of the topic.
The ITA Training Course will take place on May 9th and 10th. The course will explore important case histories and give an overview of rock tunnels and tunnels and caverns for hydroelectric projects. Underground works for transportation and storage of hydrocarbons will also be covered during the course.
Iguassu Falls
Iguassu Falls will be the venue for the World Tunnel Congress 2014. Famous for its astonishing natural beauty, the city attracts hundreds of thousands of tourists every year for leisure, business or conferences.
Iguassu Falls is part of Iguassu National Park, located at the frontier of Brazil, Argentina and Paraguay. The falls and the huge diversity of fauna and flora are some of its most important attractions. So much so that IguassuNational Park was Brazil's first Conservation Unit to be designated a World Natural Heritage by UNESCO in 1986.
"Come and visit this scenario of dazzling natural beauty in which WTC 2014 will take place. We will be glad to welcome you and your family with the traditional Brazilian warmth", says Tarcisio B. Celestino, chairman of WTC 2014 Organising Committee. The registration for WTC 2014 is opened.