Compendium
Tunnelling Manual 2017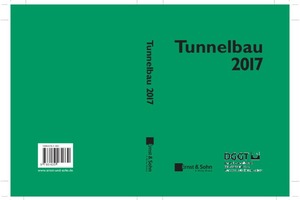 Tunnelling Manual 2017 Compendium of tunnelling technology, design aid for tunnelling Publisher: German Association for Geotechnics (DGGT), Essen 41st annual issue, 368 pages, A6 with 157 illustrations/tables and 112 references, hardback 39.90 euros Verlag Ernst & Sohn, Berlin Print ISBN 978-3-433-03168-1 eBook ISBN 978-3-433-60666-0
For more than 40 years this pocketbook has been a practice-oriented guide for clients, planners and contractors. It tackles topical developments and provides solutions to problems while at the same time documenting the state of the art and passing on practical tips. The 2017 issue contains a large number of examples of projects, classified in accordance with specific fields:
● Construction pits and tunnelling via cut-and-cover (protective gallery against natural hazards, planning and execution)
● Conventional tunnelling (producing an urban rail tunnel under complex geological conditions; U12 in...