Poland
Dewatering During Tunnel Construction for the Polish S 3 Motorway
Porr S.A., Warsaw, has started construction of the S 3 road section Bolków–Kamienna Góra in mid-2021 after a planning period of one and a half years. The Polish motorway connects the port of Swinoujscie with the Czech Republic and Austria. Construction work on the 16-kilometre section is scheduled to be completed by 2023. This section also includes a twin-tube road tunnel with a length of 2300 m. This tunnel will pass under a northern foothill of the Carpathian Mountains with a height of around 100 m. Porr is using the New Austrian Tunnelling Method (NATM) for the first time in Poland.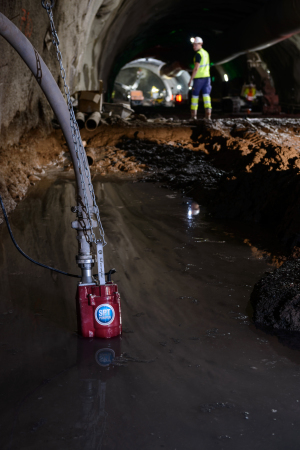 Pumps from the German manufacturer Söndgerath are used for dewatering in the southern drive of the Polish S3 motorway tunnel
Credit/Quelle: Thomas Exel
Pumps from the German manufacturer Söndgerath are used for dewatering in the southern drive of the Polish S3 motorway tunnel
Credit/Quelle: Thomas Exel
Submersible Pumps Keep the South Drive Dry
The construction work confirmed the results of the exploratory drillings: The southern section is formed by an ancient river valley with a conglomerate of abraded stones and intercalated clay layers. In the northern section there is mainly shale, which is very difficult to handle.
Dewatering is also different: it is designed for 30 litres per second. Since the northern section has a slope, the water can run off without pump support. The southern section, on the other hand, rises so that it has to be pumped out. For this, Porr relies on a long-standing partner, Söndgerath Pumpen GmbH, based in Essen, Germany. The close cooperation has existed for more than ten years. There are currently 20 units of their SPT 222 submersible pumps in use.
The SPT-222 submersible drainage pumps were developed for the toughest conditions, typical for use in mining and tunnelling. Another six high-pressure pumps of the SPT 4110 model complete the array of pumps. In projects of this sort, the units for dewatering must be absolutely fail-safe. The pumps used offer this reliably, because they work completely without electronics and are designed for continuous operation. For safety's sake, however, emergency kits are provided at both portals to prevent the tunnel section from flooding in an extreme incident.
Dewatering is carried out by means of settling basins, which are installed every 300 m and each have a capacity of 54 m³. This procedure allows the water to settle and the solids to settle before it is pumped on to the next settling basin. Outside the tunnel, the water is chemically treated in another settling basin to maintain the prescribed pH level before being discharged into the receiving waters. This cascade system of sedimentation basins has proven its effectiveness, as it considerably reduces the amount of cleaning required in the water management system.